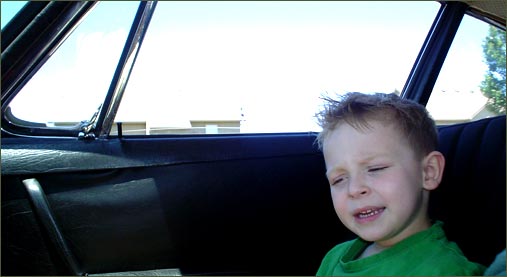 | | | |
| --- | --- | --- |
| | What a proud day this was. My 4 1/2 year old son took his first drive in the front seat of the 912. Buckled in, we drove about 3 miles down the road to the James A. Reed Memorial Wildlife Area which is pretty close by. Now, I was unaware that the Area was mostly for fishing (see, in Maryland and NY, parks like this have crazy driving potential, and lots of sights), so taking the 912 down gravel roads wan't an option, we parked her and did some walking. | |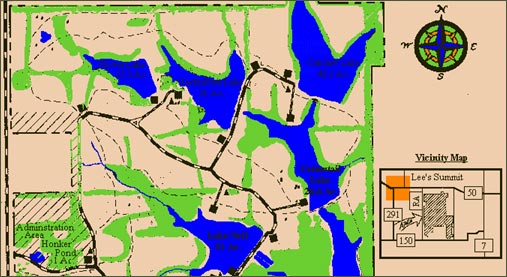 | | | |
| --- | --- | --- |
| | As a quick reference, most of the area is lakes and small gravel paths to get to those lakes. We'll come back in the Escape and do some fishing, but driving tight turns wasn't in the cards for today. | |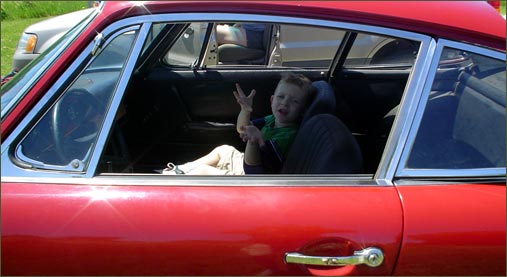 "Why are we stopped? Drive daddy, lets drive"

Right, so how do you explain to a 4 1/2 year old that we can't drive tight tunrs because they just aren't there? You promiss Winsteads and a chocolate shake, that's how.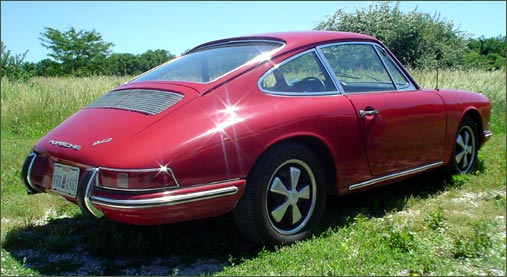 | | | |
| --- | --- | --- |
| | Just a quick shot at the park. I was looking for more drama, but when you've just promissed a burger and shake to a 4 1/2 year old, you don't really have that much time to waste. | |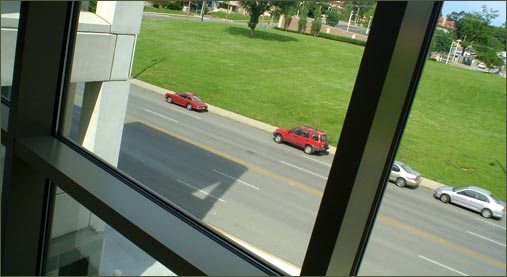 | | | |
| --- | --- | --- |
| | Since it was Memorial Weekend, and Friday was to be a beautiful one, I drove the 912 to work. Since I don't have an actual parking spot, or covered parking for that matter, I had to get there at 9am on the dot to get a spot right out front so no one could mess with it. | |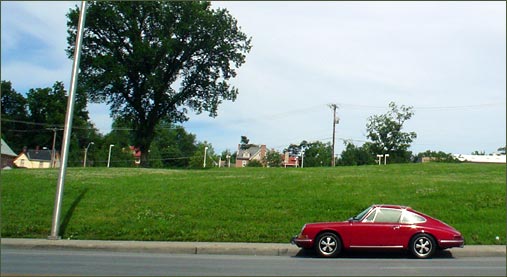 I waited till all the other cars had left for the day to grab this shot. It wasn't hard, since everyone left at 4pm to get a jumpon the holiday.

As I was driving home on 291, a mid-90s 911 merged onto the highway about 5 cars back. I saw him, and I know he saw me because he started to cut around to get closer. I had to exit, but as I did (and I'm killing myself for not grabing my camera and taking a shot), he gunned it to get just next to me to wave. I've heard about older VW Bug guys being a tight group, but that was very cool.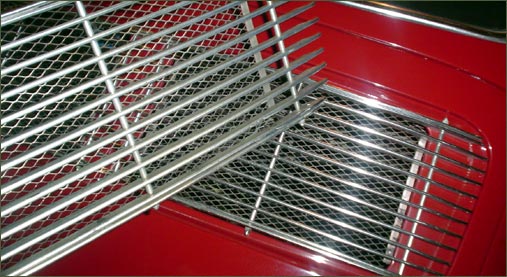 It has been a while since I updated this site, and no, it is not due to lack of interest. I've just been busy...busy DRIVING!!! Actually, the car was in the shop - ImagineAuto - in the very secure hands of Stephen Kaspar doing a once over to check all my issues. I'll go into detail further down; first I want to fill in the gaps.

The image above is of my second grill I purchased off eBay for about $75 with shipping. I screwed up my own grill, and couldn't find an original to replace, so I grabed this to piece the two together. Neither is perfect, but with a little work in the end I should have a solid grill.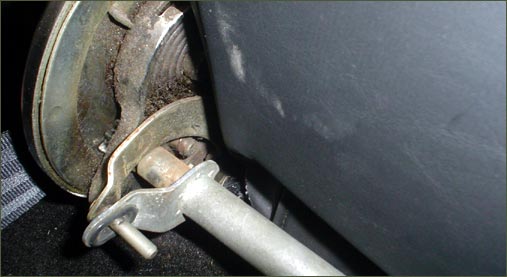 | | | |
| --- | --- | --- |
| | Have a look at my pasenger seat hardware. All there, able to recline the seat, adjust the back, all in working order. Have a look below at the next image... | |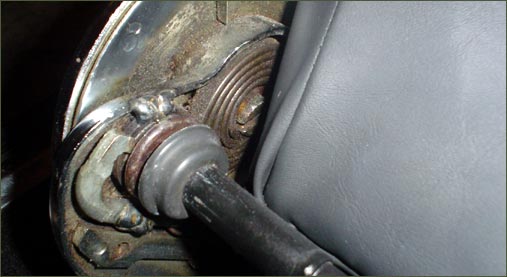 While my car was in the shop, on my laundry list of items, one of them was "unable to recline the drivers seat." Stephen called me and said "well, I've found your seat preblem...whoever re-did your seats removed the hardware and welded the seat in place!" I said that's impossible, since I know my seat guy, and he did NOT so that.

Turns out, at some point in the cars life (and this is just an educated guess), one of the owners was having problems with the seat reclining when it shouldn't, so instead of repairing it, the just WELDED it in place. I only noticed the problem because when I had the seats re-done, my head was JUST touching the head liner, and I wanted to recline a bit to solve it.

So, I'm on the watch for a new drivers seat, in almost any condition, so I can steal the hardware and give my seat back its original putpose in life.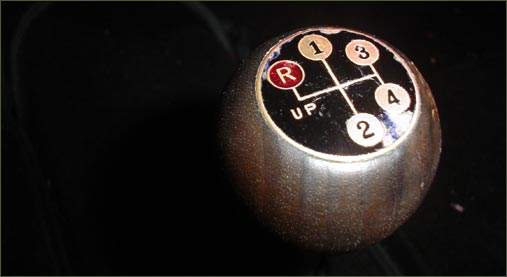 | | | |
| --- | --- | --- |
| | With the short-shift kit, the knob was a little bit of an issue getting back on, but with my OK, Stephen used apoxy to set it in place. The only way the knob is coming off is if I saw off the shaft! | |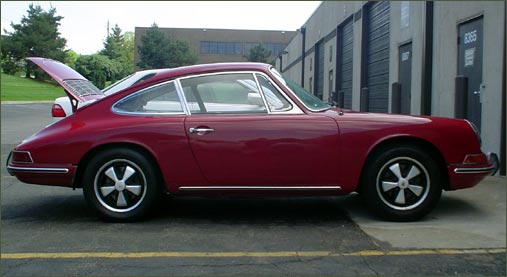 Out back of Imagine Auto. As I mentioned, I had a list of items I wanted done, a budget, and this to say before the work started:

"I only want to spend $XXXX.XX, so work your way down the most important and we'll talk when you hit the end." Here's what all was done:

Adjusted carbs and adjusted air correction
Replaced nose seal; shift shaft bent and marred; filed shaft until smooth; took shift linkage apart and removed bushings; reinstalled properly; realigned shift coupler and secured nose seal
1 hour to bleed brake system; 1 hour to replace brake lines and brake pads; rear calipers not compressing; rear lines collapsed from holding pressure
ss brake lines
911 brake pad set
fuel pump
install fuel pump
front hood latch repair
quart trans fluid
chemical & consumables
battery cable and terminal

Needless to say, the cars feels like it's just off the showroom floor. I was under tyhe impression my 912 was fun to drive...way wrong; NOW it's fun to drive...and what a drive it is.

I've been given homework by Stephen: Drive it as OFTEN as you can to help the seals. So when it's not raining, I'm driving it, even if just to the store and back.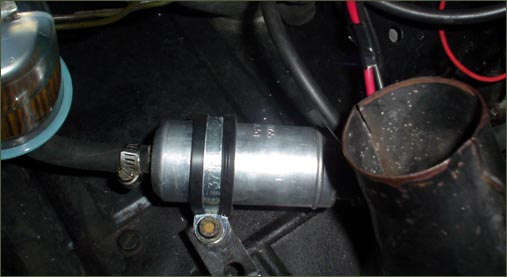 | | | |
| --- | --- | --- |
| | A closer image of that new fuel pump. Can you say NO MORE VAPOR LOCK!!! | |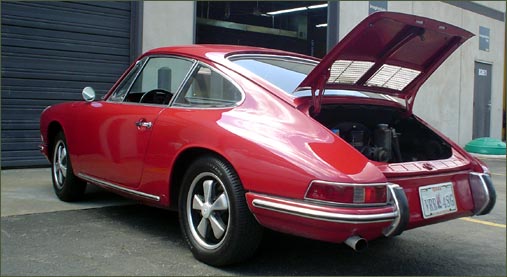 They even cleaned my wheels so the car looked brand new. I mean, my Benz guy doesn't even do that.

Also, you might have noticed I have not gotten new tags (the original Texas tags still on). I was going to get Historic tags, but alas I would then only be able to drive it 1,000 a year, which just isn't going to work. I've just been lazy. I'm going to try and take care of that this week.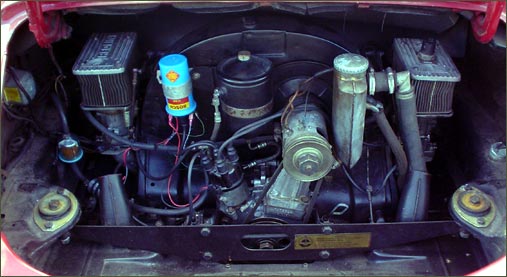 The money shot.

It idels now about 1,000 rmps, starts on the first turn, shifts like an actual gear box, and has gotten up to speeds of about 96 mph with a little left running close to 4300 rpms. A little more "break-in-time" and it should top out at just over 100 mph...not that it really matters, this car is just fun to drive 5 mph.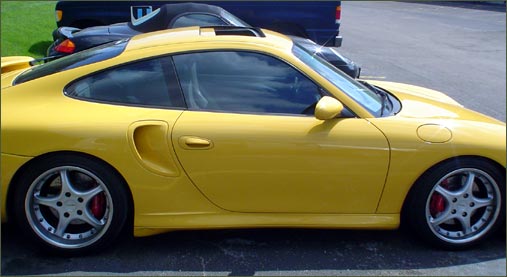 One of Stephens dailys. While I was there, he was rebuilding a 1977 911s Targa for his wife. Yellow as well, with tan interior. Was very cool.

If i'm not mistaken, with all the modifications he's done to this one, I believe it's just over 700 hp now.