Legacy Of Vehicles
The obsession started well before my 16th birthday, but didn't kick into full effect until I actually got behind the wheel for the first real time, without a chaperone. The freedom that it allowed, the places I was now able to explore, and the speed which soon became my drug of choice.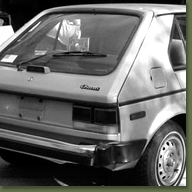 I was fortunate enough to be purchased a vehicle by my parents, since I was totally unable to purchase my own. My first automobile was a silver Dodge Omni hatchback, in immaculate condition (previous owner was an older gentleman who shipped it over from Hawaii). This was by no means a "fast" car, but it did get up to just above 105mph on 270 (highway in Maryland). I used to skip school and just drive till I had just enough gas to get me back home. Needless to say, my sister got the vehicle when she went to college and destroyed it, so I was without a ride for a couple of years.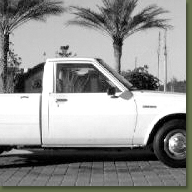 When I got accepted to Rochester Institute of Technology in upstate New York, my parents once again bailed me out and purchased me my second vehicle. This time, the vehicle was actually mine: Red 1987 Mitsubishi Mighty Max pickup truck. No power steering, no power PERIOD, rear-wheel drive, 5-speed, cassette deck, covered cap pickup truck. It was my grandfathers "picking up the paper" vehicle. My cousin actually used it for a while for his painting business. I loved that truck. I drove it from Maryland to New Your more times than I can count, and it was a driver. Never broke down, always started, just a solid truck. I donated it on it's last leg for a tax right-off about a year after I purchased my third car.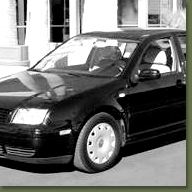 I started out a speed demon with a little 4 cylinder, was deprived speed for 4 years with my little red truck, so after college, with a little money and a good job, I wanted something I could still afford (on college loans, soon-to-be-wife, and credit card debt), but it needed to have some speed, and handle well, and it had to have a 5-speed: Black 2000 VW Jetta GL, brand new. Fun car, period. Great gearbox, fantastic handling, not so comfortable on long rides, but what a HUGE trunk. Once my family started to grow it just got too small, so we had to move on up. I actually kept the Jetta till 2003, till I sold it to a real nice kid who loved it.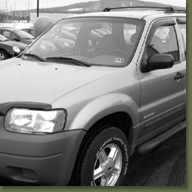 We bought another new vehicle: Champagne 2001 Ford Escape V6 2WD. We love it, except for the 2WD deal. It was a money issue at the time, so we bought what we could afford. It's currently my daily driver, and I absolutely love it.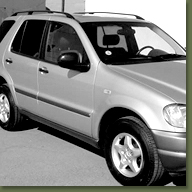 Since we still owned the Jetta (too small) and just got the Escape, we wanted to complete the vehicle family by selling the VW and getting another "big" vehicle. I read, and looked around, and have always been a fan of European Vehicles (shocker), and I wanted an AWD (All Wheel Drive) vehicle that was a tank, so I looked in Mercedes AWD sedans. My now Benz mechanic talked me out of the year I was looking to get and into a Silver 1998 ML320, my wife's daily driver. Except for the expensive maintenance (which hasn't been too bad), this SUV is outstanding in bad weather. I feel safe knowing that my family is in the ML, especially the way my wife drives.

So, why all the history and not a single word about Porsche? Basically because there was a plan in place. I was to get out of college, get settled, pay down the loans, pay off the cards, get the apartment, and get the Boxter while I kept the Mitsubishi Mighty Max as my daily (or backup). My now family took precedent over my driving dreams, so that life was put on hold. Fully knowing that a Porsche payment with a new family wouldn't happen, I started researching alternate vehicles. I almost got one or two in the early years, but the time was never right, and the funds just weren't there. I was so on the border of buying a mid-60s Volvo 1800s, blue-metallic, 5-speed in mint condition from a guy in Cumberland Maryland. If memory serves, he was asking $7500 for it. I also started look at the Austin Healey's, specifically the Sprite and the MK IV. Basically, I was looking for a sports car just under $10K that worked, and was in minor need of mechanical and cosmetic reconditioning. You can imagine my surprise when I discovered my Porsche dreams weren't so crazy and idea after all.

I was aware of the 914, but I had also discovered that the Sprite was going to be too small for me (6' 2"), and I was very intrigued by the idea of having a back seat (not that I would traditionally take my children with me, but in an emergency it does help), and I can't remember if it was Jeff who brought the 912 to my attention or eBay motors on one of my many searches for everything that is automotive. The 912. 4 cylinder, 5 and 4-speed manual, stock 90hp, but with the ability to upgrade from the Solex's to Webers, and if desired a Big Bore Kit...911 handling, almost identical 911 interior, but 912 specific...I was sold.

For three years I read, watched, researched, drooled, and attempted to find the perfect vehicle for my budget and family. My search would have been a lot longer had it not been for us moving from Maryland to Missouri. In Maryland, we had a single car garage, with a single car driveway. In Missouri, we have a 2-car garage with a 4-car driveway. I found my car on eBay motors. It was in Texas just waiting for me. That whole story is documented in the Journal section of this site.

I'm not sure if it's sick obsession, or total respect for the fact that I now own a Porsche 912, but I become ridiculously excited just thinking about driving it, like a kid waking up at 5:30am on Saturday morning to watch cartoon till noon. I'm so overjoyed that the excitement of owning hasn't dwindled the excitement of anticipation. The thrill of Spring, Summer and Fall await, and like High School, I can't wait to just drive and explore Missouri like I did when I was a 16 year old kid. I haven't enjoyed driving so much since, and thanks to Porsche, I get a second shot.